EWI and Saxophone School (online lessons available)
"Let's make music our lifelong hobby"
Whether you used to play the saxophone or have just started as an adult. No difficult theory! In this age of 100 years of life, music is the best way to keep your heart healthy and your head healthy. My motto is to give you EWI and Saxophone lessons so that you can enjoy music for the rest of your life.
The key to enjoying music for a lifetime is to make friends who share the same hobby.
I provide advice on technique, music selection, and other information to help students expand your horizons through music, while respecting their wishes. This is the main purpose of my lessons.
Various genres and requests and Online lessons are also available
I can respond to a variety of needs, such as those who want to acquire technique, learn to play their favorite songs from sheet music, or improvise.
I have extensive experience in a wide range of fields, including brass band, jazz, pop, funk, and fusion music.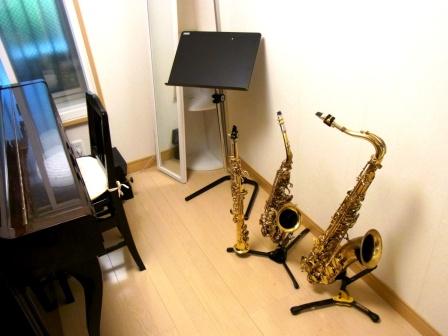 Online lessons are also available.
If you are in a remote area and cannot come to the classroom in person, you can still take lessons using the online conference system "ZOOM"
Ideal for
Our lessons are designed for
・If you are a beginner who has recently bought an instrument, or if you have been playing saxophone for a while.
・If you have played the saxophone in junior high school or high school, but have not played it for a long time.
・If you want to be able to play the saxophone without sheet music based on your experience in brass band or  classical music.
This course is ideal for those who want to learn to play without music.
Lesson Schedule, Fee, Payment Method
(Online payment, credit card payment accepted)
Schedule: Saturday, Sunday, Holidays
Time: 9:oo~ 10:10~ 11:20~ 18:00~ (4 slots)
The fee is 5,000 yen per hour.
Fee: 5,000 yen per hour
Trial lesson is available for 1,000 yen for the first time.
In addition to cash payment, we also accept credit card payment via Paypal.
EWI lessons are also available
We also offer EWI (so-called Wind Synth) lessons.
【Instructor Profile】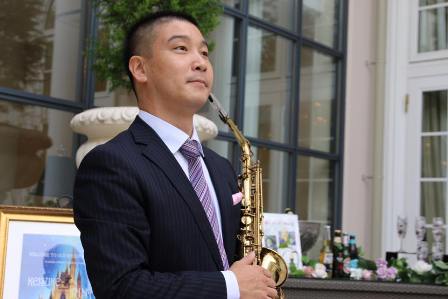 Name :Genta Kawakami
Born in Kyoto City. After playing in a junior high school brass band, he joined the Kyoto Prefectural Toba High School Brass Band and served as its director. He plays the tenor saxophone and won the gold medal at the Kyoto Brass Band Competition in 1996.
He joined the Kwansei Gakuin University Light Music Club, which has produced many professional musicians, and played mainly pop and fusion music. He actively performed at places such as Kobe Chicken George, Shinsaibashi Club Quattro, and Kyoto RAG. Around this time, he also formed the duo "Double Cast" with Shigeki Matsuo, a leading composer in Kyoto, and began performing at restaurants and weddings.
At present, he is performing live in Kyoto, Osaka, and Kobe with the "Kawakami Genta Band," which mainly plays Japanese fusion music, as well as at Kibune Shrine in Kurama, Kyoto, and other events around the country.
He has studied under Takahiro Miyazaki, formerly of T-SQUARE.
Passed the Career Consulting Technician Level 2 in March 2018. His motto is to teach saxophone and give lessons that will boost the confidence of the people involved.
Favorite saxophone player
・Masato Honda
・Takahiro Miyazaki
・Gerald Albright
・Eric Marienthal
【Experience with musical instruments】
 6  to 18 years old Classical piano
13 to 15 years old Baritone saxophone A little guitar
16 to 18 years old Tenor and soprano saxophone
19 to 20 years old Drums
20 years old to present Alto saxophone, soprano & tenor saxophone EWI